How is this Possible?
We have partnered with advanced food companies to help bring to market a revolutionary new type of fat replacement that is 0.7 calories per gram (instead of the usual 9 calories) while maintaining the mouthfeel and texture of full calorie fat. This new type of fat is FDA approved, has 2 decades of research, is Non-GMO, and as safe as regular fat.
If you are counting SmartPoints® by following the Weight Watchers® program (which we support, but have no affiliation with), each 2 tablespoon serving is equivalent to just 3 SmartPoints. Confirm with your favorite SmartPoints calculator with values of
100 calories
0g Sugar
1g Saturated Fat
6g Protein.
Sources
High Calorie Nut Butters No More
Compare the back of the nutrition label of OWN versus a product that is a long-known household name, such as Jif® Peanut Butter, and see the difference.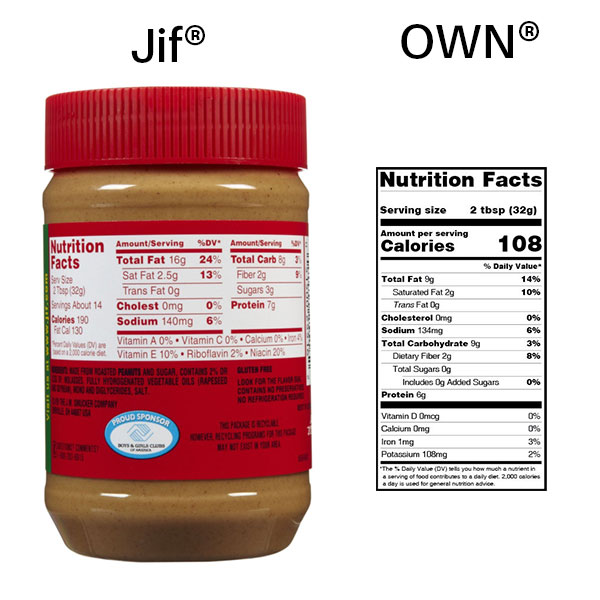 What does this mean for you?
Our philosophy is to help you maintain healthy eating patterns by developing that are as close to the "full calorie" equivalents, without sacrificing flavor, texture, and satisfaction. We know from experience that when you are not satisfied, you may end up eating more, or go back to high point foods to satisfy cravings.
No mixing powders with water to get something that tastes somewhat like peanut butter.
No "Peanut Butter Imitations" that have a long list of chemical ingredients and doesn't taste anything like Peanut Butter.
This is the next modern evolution of Peanut Butter, invented by us, for us.